Garou

Name in Japanese
ガルー
Rōmaji Translation
Garū
Personal Info
Class
Crimson Lord
True Name
"Fierce Wolf of Hacking"
Vessel
Lupin
Contracted to
Denis
Affiliation/s
Flame Haze
Color of Flame
█ Horsetail
Garou (ガルー, Garū?) is the Crimson Lord who is contracted to Denis.
Appearance
Edit
...
Personality
Edit
...
Background
Edit
...
...
Relationships
Edit
...
Powers and Abilities
Edit
...
...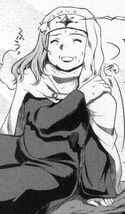 During the end of Great War, Denis gave his cloak to Sophie to cover her worn out clothes.

[1]
References
Edit
Ad blocker interference detected!
Wikia is a free-to-use site that makes money from advertising. We have a modified experience for viewers using ad blockers

Wikia is not accessible if you've made further modifications. Remove the custom ad blocker rule(s) and the page will load as expected.