Para (パラ, Para?) is a Crimson Denizen and a member of the Denizen-run organization known as Hyakki Yakō. His title is "Coachman of Palanquin Slaves" (輿隷の御者, Yorei no Gyosha?).
Appearance
Edit
Para takes form of a human-shaped shadowy mass, wearing goggles, scarf, gloves, green cap and uniform.
Personality
Edit
...
Background
Edit
...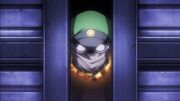 He is the one who drives the van Rinne that appeared in Episode 19 and aided the escape of the Engage Link and Kazumi Yoshida.
Relationships
Edit
...
Powers and Abilities
Edit
Unrestricted Spells
Edit
Seeds of Hiisi (ヒーシの種, Hīshi no Tane?): Para is capable of scattering his body tissue, and manipulating inorganic substances which his 'body' is attached. He easily makes Rinne in this way.
Taijinkunshi-gō (大人君子号?):
Onjūtonkō-gō (温柔敦厚号?):
...
Para has the same FUNimation English voice actor as Satoru Ōmine.
References
Edit