Shakugan no Shana Fūzetsu Battle R (灼眼のシャナ 封絶バトルR, Shakugan no Shana Fūzetsu Batoru R?), also known in the short form FūBato R (封バトR?),[2] is an online social game by DMM. It is built upon the game engine used in Arc, Inc.'s previous game, Shakugan no Shana Fūzetsu Battle.
Promotion
Edit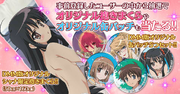 Preregistration for the game began on April 14, 2017, with the game scheduled to be released in May.[1]
From May 2 to May 7, a twitter retweet campaign was held, where, should 500 retweets be made, more rewards similar to the gacha revolution prizes would be awarded to players. Additionally, a wallpaper of the game's key visual illustration would be made available on the official website.[4] The 500 retweets condition was reached before the deadline.
From May 11 until midnight on the 31st, a twitter poll was opened as a pre-registration event, where people can tweet their vote for a character out of the eight choices. The three characters who polled the most votes would be featured in a character unit illustration wearing swimsuits. The eight characters were: Shana, Hecate, Chiara, Pheles, Kazumi Yoshida, Margery, Mare, and Vine.[5] The final tally of the poll was announced on June 1st:
1st place: Shana with 579 votes
2nd place: Hecate with 273 votes
3rd place: Kazumi Yoshida with 47 votes
4th place: Pheles with 34 votes
5th place: Chiara with 32 votes
6th place: Margery with 31 votes
Equal 7th place: Mare and Vine with 25 votes
The unit was revealed on August 17, named "Sending Gratitude" (贈る感謝, Okuru Kansha?), and could be obtained in a login bonus campaign.
The game will end its service on November 1.[6]
Game Synopsis
Edit
Characters
Edit
Battle Mode
Edit
Treasure Tools
Edit
Original Modes
Edit
In this mode, scenes from the anime can be viewed and collected.
Great Sports Festival
Edit
In this mode, each guild of players has their own Shana. The guild can train her to participate in a sports festival event.
Collaborations
Edit
Strike Witches: Kiseki no Rondo Blitz
Edit
From noon August 9, 2017 to noon August 16, a cross collaboration took place with another game on the DMM GAMES platform, Strike Witches: Kiseki no Rondo Blitz. Strike Witches is a mixed-media project comprised of several light novels, manga, and anime series.
By playing Kiseki no Rondo Blitz and completing missions such as finishing the tutorial and logging into the game every day for 5 days, players are able to acquire items as well as exclusive character units in Fūzetsu Battle R. Of the four exclusive character units, three feature Strike Witches characters, while the last is a Shana unit named "Burning-Eyed Sergeant" with a Strike Witches-themed avatar and illustration. This last unit's illustration was revealed on August 15. The reward for one mission was a "Shana ticket", which could be exchanged for one "Burning-Eyed Sergeant" unit of any of the five attributes. All rewards for completing the missions in Kiseki no Rondo Blitz were given out in Fūzetsu Battle R on August 17, the day after the end of the collaboration.
Likewise, by playing Fūzetsu Battle R and completing missions, exclusive character units can be acquired in Kiseki no Rondo Blitz. Shana, Wilhelmina, and Hecate were added as character units for the game, using illustrations from Fūzetsu Battle units. Players could also receive items that they could exchange to equip their characters with the Misaki Municipal High School uniform and Yogasa as a costume.
References
Edit